Shakespeare and the Prince of Love
The Feast of Misrule in the Middle Temple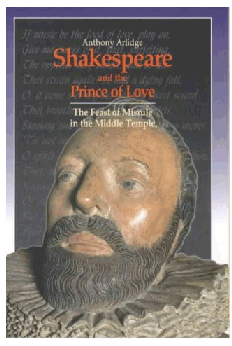 Anthony Arlidge



Shakespeare and the Prince of Love:
The Feast of Misrule in the Middle Temple
(ISBN 9781900357197)
was published as a paperback original in June 2000
with a preface by Anne Barton,
Professor of English at Cambridge University
and a foreword by Sir Louis Blom-Cooper Q.C.
200 pages 234 x 156 mm 15 colour and 5 black and white illustrations
£17.99




Professor Anne Barton, Faculty of English, University of Cambridge:
'...[his book] is important not because it shows that Twelfth Night was first performed at the Middle Temple but because it demonstrates
the close links between Shakespeare and the Inns. If it was
specially commissioned by the Inns it has all sorts of ramifications for other plays, including Troilus and Cressida...'
Ralph Berry, Contemporary Review
: '...Could it have been a first night performance? It could, indeed, and Mr Arlidge builds up a very strong case based on circumstantial evidence.'
See full review.


Description
---
Through his researches in the rich archive of 16th and 17th century manuscripts and documents at the Middle Temple in London, where he is a senior barrister, Anthony Arlidge has revealed that Shakespeare's Twelfth Night was commissioned for performance there in 1602. Middle Temple Hall is the only building surviving from Shakespeare's time where it is known that one of his plays had its first night.

<> He shows that, with its many legal references and 'inn-jokes', Twelfth Night was almost certainly written for an audience of lawyers. The Middle Temple was in fact full of talented young poets and playwrights at the time -- John Webster, John Ford and John Marston, author of What You Will, amongst others -- and it seems probable that Shakespeare knew some of them personally. Also, a 'cousin' of Shakespeare's was a student in the Inn in 1602. Like other Inns of Court, it had its own tradition of holding a feast of 'misrule' over the Christmas period, led by the Bright Prince of Burning Love. Twelfth Night has many oblique references to such festivities. That, for example, is the meaning in Italian of the name of the important character Feste. The still extant text of the Inn's 1597/8 festivities is included complete in an appendix.

<> In the course of the book, Anthony Arlidge describes in detail the background of the contemporary legal world, and brings to life the extravagant literary and social milieu of the Elizabethan Inns of Court in all its complexity. Shakespeare and the Prince of Love is written in such a way that it will have a strong appeal to the general reader as well as to Shakespeare enthusiasts, students of English literature and historians, for whom it will be an essential acquisition.

Author
---
Anthony Arlidge is well known as a senior barrister and Queen's Counsel at the Middle Temple in London, where he is Master of the Entertainments, and he is the co-author of standard textbooks on contempt of court and fraud. He has long had an interest in the theatre, and in 1998 he directed the performance of a highly successful new version that he edited of the Inn's 1597/8 festivities in the Middle Temple Hall, taking part himself. The Globe Theatre put on a special production of Twelfth Night in the Middle Temple Hall in 2002 to celebrate the quatercentenary of the first performance there in 1602.