Calatafimi


Behind the Stone Walls of a Sicilian Town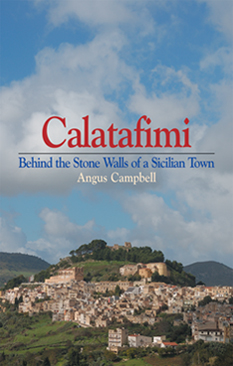 Angus Campbell



Calatafimi: Behind the Stone Walls of a Sicilian Town
(ISBN 9781900357289)
was published as a paperback original in October 2008
312 pages 216 x 138mm 13 colour and 7 black & white illustrations
£18.99




John Phillips in The Tablet: 'Sicily has always been the most impenetrable Italian region for foreigners. Angus Campbell, who has spent many years on the island, delves deep into its society in this gripping study...He is particularly enchanting on the long English connection to Sicily established under the Normans with the presence of Gualtiero Offamilio. This name is sometimes thought to be the transliteration of Walter of the Mill, the English Archbishop of Palermo from 1168 to 1193...an engaging, elegant and impassioned portrait of his town...'

Sunday Telegraph: 'Campbell is clearly besotted with his adopted home, and his research is dense and thorough...Calatafimi is a place steeped in fascinating customs and traditions, and retains a spirit of independence and pride...you'll be rewarded with a surprising portrait of a little-known destination.'


Description
---
Calatafimi is about the colourful life and the kaleidoscopic history of an idiosyncratic Sicilian town not far from Palermo, in the mountainous west of the island. It traces events and uncovers layer upon layer of the lives of the people there, describing their ambitions, intrigues and preoccupations, from the time of the Greeks, the Romans, the Byzantines, the Arabs, the Normans and the Spanish to 2000.

<> The first major battle fought by Garibaldi during the liberation of Italy took place in 1860 at Calatafimi, which mobilized and supported him. What is more, the famous classical Greek temple of Segesta, together with its ancient theatre, which is still being excavated, lies immediately over the hill from the town. Segesta successfully plotted the destruction of its rival nearby, the city of Selinous.

<> Angus Campbell, who has lived in Calatafimi for many years, and whose love of the region shines through – and whose wife comes from a long-established Calatafimi family – has delved into the extensive local archives, examined the history of local architecture, farming and husbandry, geology and religious festivals, and probed into the customs, traditions and predilections of people in the area, with their proud spirit of independence. Foreign visitors over more than two centuries, many of them from England, wrote accounts of their experiences, and these are liberally quoted, not least those of Samuel Butler, the author of Erewhon, some of whose photographs from the 1890s are among the illustrations, including ones of Garibaldi veterans from Calatafimi.

<> Calatafimi's rich amalgam of observations about the past and the present, about dynastic enlightenment, ruthlessness and neglect, about social life, eccentricity and respectability, generosity and greed, success and failure, will be indelibly imprinted on many readers' minds.

<> More information from the author

<> Read first two chapters

Author
---
Angus Campbell has lived in Calatafimi for many years, after retiring from a career in the field of advertising in Rome and London. His wife comes from a long-established Calatafimi family. He has made many translations from the Italian.

Contents
---
Acknowledgements
List of illustrations

Introduction
1. From Contrada San Giovanni into Calatafimi
2. The Town and its Monuments
3. A Potted History of Sicily and Calatafimi
4. A Day
5. Samuel Butler and Calatafimi
6. Foreign Travellers on Calatafimi
7. Some People
8. Earth, Fire Wind, Water
9. Festas and Processions
10. Calatafimi and Garibaldi
11. Charities
12. Underground Activity
13. Emigration and Immigration
14. Some Injustices
15. Pigs and Climbers
16. Segesta
17. Living the Land
18. Calatafimi at Table
19. The Mollica Family
20. Afterthought

Notes
Index